ASK THE MICHELIN MAN
Michelin Launches New Truck Tyre With Six-Month Guarantee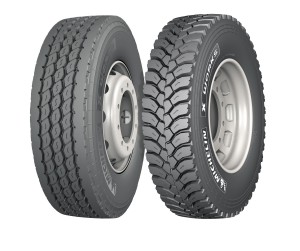 Michelin is so confident of its newest on/off-road truck tyre's robustness that it is offering a six-month accidental damage warranty with every purchase. It is believed to be the first promotion of its kind offered in the UK and Irish truck tyre markets.
Any new Michelin X Works tyre bought on the replacement market before the end of May 2012 will be guaranteed against accidental damage during the first six months of usage. To register tyres under the free guarantee, customers must either download the form from the X Works microsite* or contact their local Michelin account manager.
The 315/80 R 22.5 tyre is available as either an all-round X Works XZY fitment, or as the drive-axle specific X Works XDY. Purpose-designed to increase endurance, the tyre can be used in harsh conditions, such as construction sites, landfills and quarries as well as on the road – making it ideal for tippers, mixers and hooklifts.
Martin Covington, Michelin's Head of Truck and Earthmover Marketing, says: "There's a common misconception that if a truck is being used in an environment with increased risk of damage, there's no point investing in a quality tyre. As a result, some fleets will buy budget tyres and pay more in the long-term owing to frequent downtime, expensive repairs and reduced tyre life.
"If you invest in a quality tyre, such as the Michelin X Works, tyre-related vehicle downtime will reduce and the life of the tyre itself will increase – this will result in lower bills.
"We are launching this tyre guarantee to demonstrate the confidence we have in our product. We know the economic climate is tough, but if fleets invest a little more up front, they can enjoy the benefits Michelin tyres deliver throughout their longer life. It will prove to be an all-round better tyre fitment for their business."
The Michelin X Works tyre has been designed to improve resistance to accidental damage and increase mileage potential, even when being used in harsh conditions.
To ensure the X Works tyre performs equally well both on and off road, Michelin has designed the casing, rubber compounds, sidewalls and tread with additional strength to ensure they can better resist cuts and impacts.
The X Works XDY also features a chambered tread block design and compact central tread pattern to improve resistance to tread tearing.
Wider tread grooves improve water evacuation and self-cleaning properties in muddy conditions, while V-shaped tread grooves vary in width and pitch to help reduce stone retention.
The Michelin X Works XZY and XDY tyres both feature M + S (Mud + Snow) markings, which indicate mobility during adverse driving conditions.
*For more information, please visit xworks.michelintransport.co.uk
19th December 2011