ASK THE MICHELIN MAN
Region One – Scotland and North England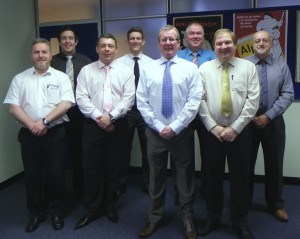 Henry Thain – Regional Sales Manager, Region one.
Henry has been in the role of manager for Region one for 15 years. During this time he has seen many changes, with 50% of the Team now having less than three years' experience. The region restructured again in late 2010 going to five area sales managers, one Regional Fleet Account Manager and one Regional Earthmover Account Manager. The region is actually half the length of the UK and runs from the far North of Scotland right down to just south of Middlesbrough.
Henry in 2011 looked after seven Michelin representatives; this will reduce to six in 2012 when Earthmover will have their own team management control. Region one team details are:
John Morrison – Regional Earthmover and Industrial Manager. John covers the whole of the Region, at present, but with Earthmover Department separating from Truck at the end of 2011 the links to the Truck Regional Sales Managers will be broken. John will still be working with the region one team as they cover a lot of the same area and the same tyre Dealers – but sell different tyres. The growth in the Northern market has meant that John now looks after Quarrying and Industrial customers but now spends a lot of time on Timber, Waste, Ports and construction of re-newable energy site.
Bill Stavert – Regional Fleet Account Manager. Bill covers an area equivalent to half the UK land mass. From Inverurie in the North East to Aberlour in the North West, to Redcar in the south east to Penrith in the South west. Bill concentrates on 37 key accounts on the region with a total turnover of £6.6m.
Michael MacMurray – Truck sales account manager. Michael covers from Oban on the west coast across to the NE corner of Aberdeenshire, the Highlands and all of the extreme islands,the most northerly point that Michael visits is the Shetland Isles which actually shares the same latitude as Iceland.
Bill Rodger – Truck sales account manager. Bill's area runs from Aberdeen to Fife. A highlight on Bill's ground would have to be the famous Forth Road Bridge.
Andrew Evans – Truck area sales manager. Andrews area of responsibility is the North-East of England covering Newcastle-upon-Tyne, Sunderland and Middlesbough. He has enjoyed the challenge of being region one's distribution champion and is looking forward to taking up the same responsibilities as the BibForce champion.
Stuart Allison – Truck sales account manager. Stuart's ground starts off in Stirling venturing down to Glasgow and across to Edinburgh. It runs through the M8 corridor and all the way down into the England/Scotland borders. This triangle actually covers two thirds of the population in Scotland.
Alex White – Truck sales account manager. Alex is the newest member of region one and joined the team in August 2010.  His ground predominantly covers South West Scotland, Cumbria and The Lake District, but also reaches into Northumberland and North Yorkshire.